---
Permanent Makeup Online Basic Training
In our education center, you can get Basic Training in Classical Micropigmentation, which certifies you to perform Permanent Makeup.
In collaboration with - leaders of international permanent makeup training centers in Europe and Eastern Europe, Business Coaches, VUC Teachers, Psychologists and Our New Students (Independent) - developed a New Teaching Concept.
The concept is structured in such a way that it prioritizes the practical skills and skills that are based on the theoretical knowledge that are prepared before the course starts. This means that our course participants must start with the theoretical part of the curriculum before showing up for the first day of the course.
We teach students who are often already self-employed, who therefore request and expect more effective practical training, including detailed methods in permanent makeup.
Therefore, all theoretical material and theoretical home assignments are handed to each course student immediately after the course sign up/payment.
Take the Permanent Makeup Basic training course in 6-9 weeks pr module, where you gain the first certificate straight after the online theoretical course and the CPD certificate - after your successful model treatments at our academy ( 4 days pr area)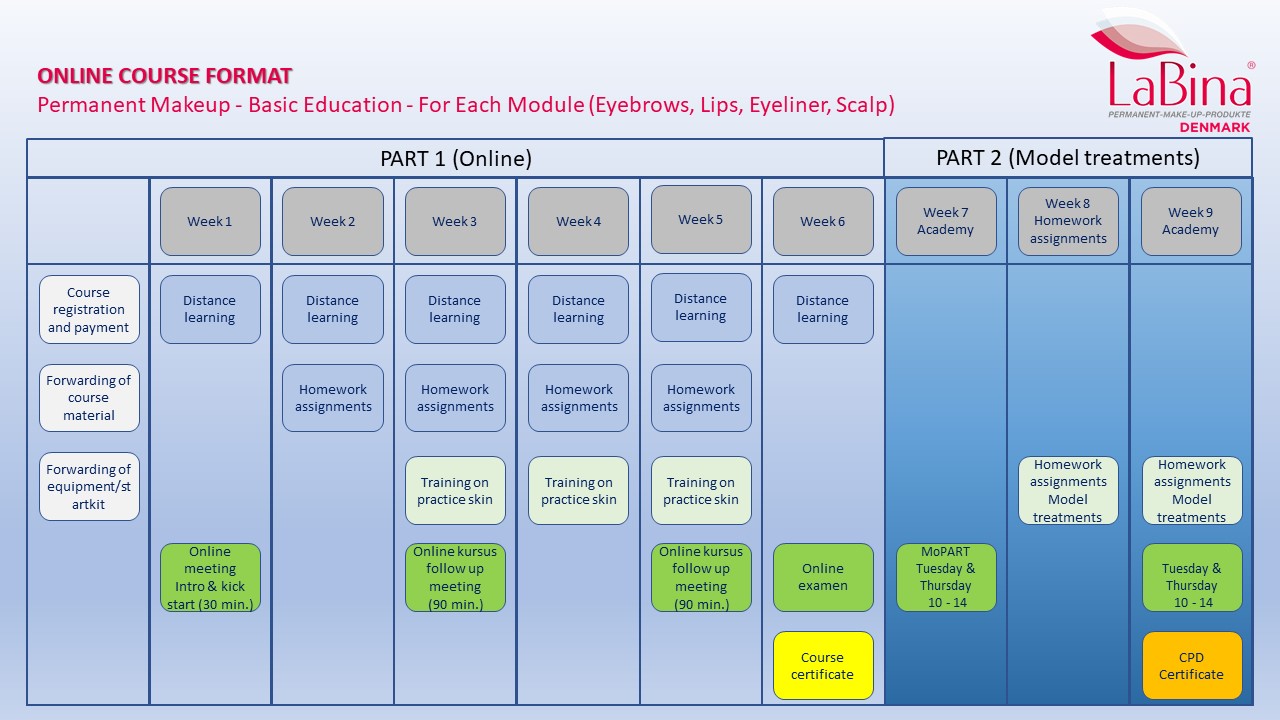 On the Permanent Makeup Basic Training you will learn about:
The latest permanent makeup methods

Pigments

Needles

Operation of machinery and equipment

Customers and your own safety

How we work with different skin types (by age, skin type, thickness, desired effect, permanent makeup instrument, etc.)
You learn Eyelash extensions and Wide Eyeliner; 3D brow with hairstrokes and hairstrokes and shadows; Lipstick with Sharpening, Lipliner and Full Color Volume Lips.
We train the drawing techniques first on the paper, afterwards on the exercise matts, again on the exercise matts, and only afterwards we experience how it works on the skin on models where all your movements are under my supervision and I will help you to correct any minor errors.
You are maximum 2-3 students per Trainer, as a training guarantee that all questions from your side, will be answered and all techniques will be practiced/trained as much as needed.

The education is based on people's motor skills - the brain must have theory and training days in order to use all the new knowledge in practice and therefore you have home assignments and practical days spread over 2 months per module
As our course student, you can:
Sign up for the entire program or optional module at a time. (Eyeliner, brow or lips) Part 1 and/or Part 2

Determine your course start - the online theory module must be taken before starting any of the modules.

Pay for only for PART 1 (online) when you sign up for the course

Sign up for PART 2 (practice) when you are ready and pay for it just before your start

Get a free EXAM by signing up for any Online Basic Training.
You will get:
You get: CPD Certificate (Basic Training in PMU),

After you have completed at least 30 treatments per area incl. fillings, you can attend the advanced masterclasses(butterfly eyeliner, 3d lips and eyebrow embroidery).
Course program spread over 2 months per module:
Theory module - ONLINE: Theory and practice with us incl. checking of home assignments (to be delivered in advance). You get the material onlline incl. videotraining and difefrent hometasks. at the end of this module you would get a test and after your evalutaion you will gain a coarse certificate.

Practical module - at our academy:
You shall participate in at least 4 practical days at the academy and perform model treatments, pass a practical exam before you get your CPD certification.
Your practice on models includes:
Permanent Eyeliner. We train "Eyelash filling" (single/double) and "wide eyeliner". Temporary certificate is issued. Home assignments are handed out.

Permanent brows. We train "Hair strokes" and "Hair strokes with extra shadow" (extra shading). Home assignments are handed out.
Permanent Lips. We train "Natural Lipstick With Sharpening" and "Full Color - Volume Lips". Home assignments are handed out.
Please notice that Scalp module is not included in Full Baisc Course.
Contact your trainer Aleksandra for more information: (+45) 26 36 11 08 or ak@labina.dk.
Instructor:
You will be trained and educated by Aleksandra, an international highly educated master coach:

International Master and trainer in Permanent Makeup (Labina Denmark)

International trained and master trainer in Eyelash Extensions (DanishLash)

Antiaging Therapist in Dermatotherapy and Trainer (Clinical Wrinkle Reduction)

Micropigment therapist specializing in advanced permanent makeup and non-laser tattoo removal (several master programs in Europe)

Specialist in Removing Permanent Makeup and Tattoos (OK Permanent Makeup, Tallin)

Course fees:
| | | | | | |
| --- | --- | --- | --- | --- | --- |
| | Brows | Eyeliner | Lips | Full course | Scalp |
| PART 1 (Online course) | Kr. 6.400 Kr. 5.600,- | Kr. 6.400 Kr. 5.600,- | Kr. 6.400 Kr. 5.600,- | Kr. 19.200 Kr. 14.400,- | Kr. 5.600 Kr. 4.800,- |
| PART 2 (Practise at the academy) | Kr. 10.400 Kr. 8.400,- | Kr. 10.400 Kr. 8.400,- | Kr. 10.400 Kr. 8.400,- | Kr. 28.800 Kr. 21.600,- | Kr. 9.200 Kr. 7.200,- |
| PART 1 & PART 2 | Kr. 16.000 Kr. 14.000,- | Kr. 16.000 Kr. 14.000,- | Kr. 16.000 Kr. 14.000,- | Kr. 48.000 Kr. 36.000,- | Kr. 14.000 Kr.2.000,- |
| Exam fee | Kr. 0,- | Kr. 0,- | Kr. 0,- | Kr. 0,- | Kr. 0,- |
Further information:
| | |
| --- | --- |
| Find your starter kit: Order 30 days before start | |
| If you have any questions, want us to call you or if you want to register for the course, please write us here: | Click here |